About
Roadrunner Records is excited to announce the signing of Minneapolis, MN's Out Came The Wolves. The band - Cameron Burns (Vocals), George Shrouder (Guitar), Austin Brady (Guitar) and Ervin Buljubasic (Bass) - have also released a digital single comprised of tracks "96" and "Queen Mary," which is available today at all DSPs. "Queen Mary" is accompanied by a new official music video which is streaming now on Out Came The Wolves officialYouTube channel. Both tracks will appear on the band's debut LP due out later this Fall.
Frontman Cameron Burns commented on the band's signing, "I've grown up listening to bands on Roadrunner Records and it's truly a dream come true to be a part of their family and work with them. I've always been that kid in the crowd losing my voice to bands on stage and now I get to show the world what Out Came The Wolves is made of." Guitarist George Shrouder added, "We have unanimously looked up to Roadrunner bands our entire lives. Having the opportunity partner up with the best label in the world is a dream come true."
This summer Out Came The Wolves will join Myka Relocate on a U.S. trek which is set to get underway June 15th in Salt Lake City, UT at Billboard Live and continue through mid-July (tour itinerary below). Out Came The Wolves recently wrapped an extensive U.S. tour supporting The Word Alive and were recently selected for Taco Bell's "Feed The Beat" program.
Out Came The Wolves began turning heads in 2013, selling out local venues throughout the Midwest which eventually lead to support slots on hometown bills with acts such Asking Alexandria, August Burns Red and We Came As Romans. Praised for their electrifying mix of modern rock and post hardcore, Out Came The Wolves will release their debut LP for Roadrunner Records later this Fall.
First conceived as an indie importer of metal albums in 1980, Roadrunner Records has grown into the most significant and innovative label in heavy music culture. Out Came The Wolves will continue to further the label's already historic legacy.
Releases from this artist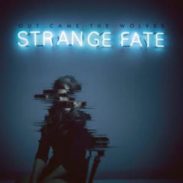 Strange Fate
(2016)